Maral Bat
---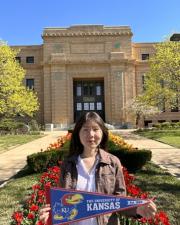 International Student Ambassador
Biography
—
Originally from: Ulaanbaatar, Mongolia
Based in: Lawrence, Kansas
As an International Student Ambassador…
I work with International Student Admissions to connect with international students abroad, transfer international students, families of students, etc. 
Favorite thing about KU: 
I love the connections I made with my peers and professors. It's a really fun and supportive network of motivated individuals.
Experiences Abroad: 
Lived in Montreal, Quebec, Canada and Brisbane, Queensland, Australia; Studied in Ulaanbaatar, Mongolia; Gold Coast, Queensland, Australia; and now Lawrence, Kansas, USA!
Languages Spoken:  English, Mongolian
Fun Facts: I like gesture drawing!